Beige Gingham Campaign Partners
Date Posted:16 March 2020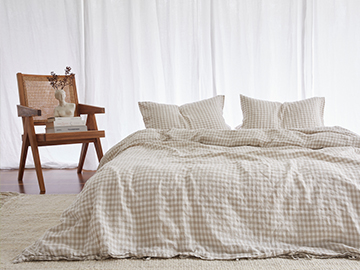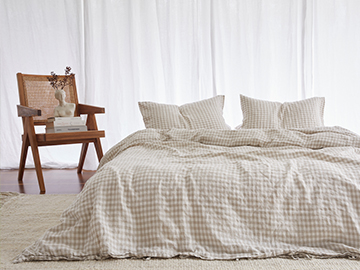 Beige Gingham Campaign Partners
Inspired by neutral tones and calming patterns, we're excited to share the launch of our newest design for 2020 - Beige Gingham. Designed in sheet sets, quilt covers and pillows, this pattern is the most perfect shade of cinnamon brown and creamy white. Dreamy when styled with classic White or Natural or add a pop with our Sandalwood and Ochre pieces.
We sourced beautiful pieces from our friends at Pampa in Byron Bay and Melbourne based Harpers Project, to style this look for our campaign shoot. We sat down and asked them to share how they would style our new Beige Gingham.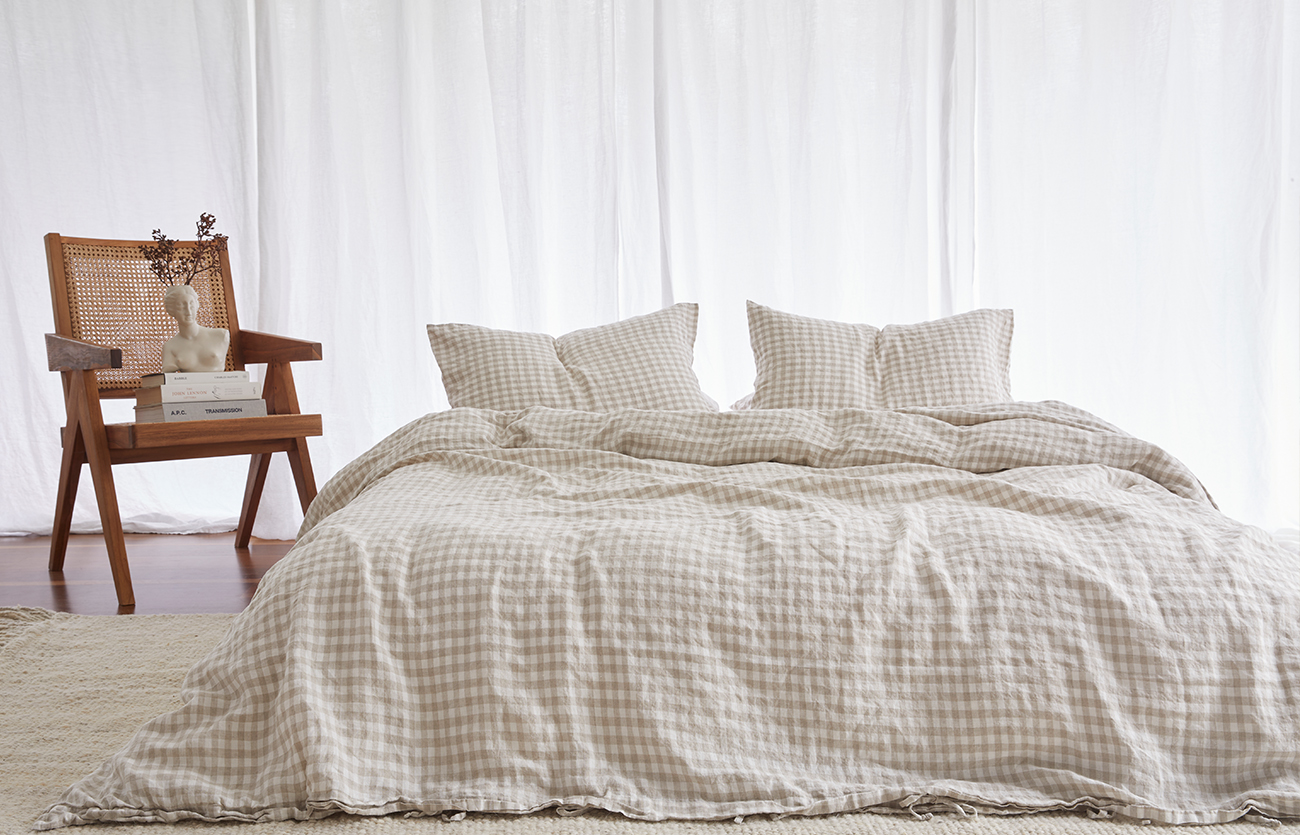 Nathan from Harpers Project
Tell us about your brand.

After a decade in the furniture industry, Harpers Project, a family owned online business was born in 2014. Harpers Project was conceived to accomplish our family goal: "To provide the most unique, stylish handmade timber and marble pieces and share our passion in furniture lifestyle with the world." We love the clean raw timber styling of Scandinavian furniture and are inspired by the timeless versatility of marble used by the Europeans. Proudly, our furniture is not mass produced in large factories. It is all delicately hand made by highly experienced carpenters.
If you were styling Beige Gingham in your bedroom, what other pieces would you choose from your range and ours?

We always design our furniture pieces to pair back with neutral earthy tones. We love our simple stools and stump stools for the bedroom as easy styling pieces along with a strong feature chair. We also love your white sheets and pillows which can pair back with almost anything.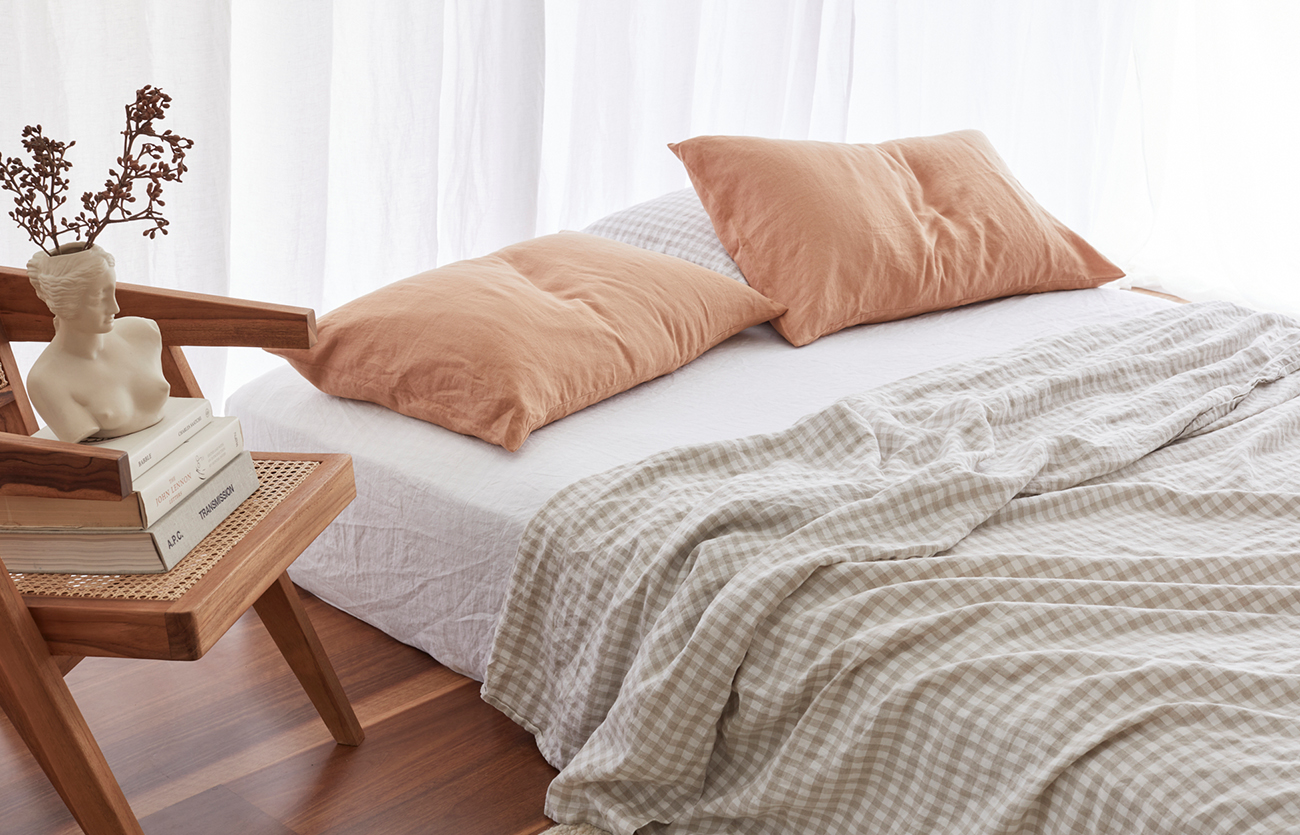 Charlie from Pampa
Tell us about your brand.

Pampa is a homewares brand based in Byron Bay, Australia. We work directly with skilled artisans in remote and rural Argentina to bring you the finest-quality woven textiles and goods. In many parts of Argentina, natural dyes, patterns inspired by nature and the traditions of manual weaving are slowly fading away. Pampa was founded with the desire to protect this woven heritage for the next generation. In the Quechua language, Pampa means 'plain between the mountains'. All our collections have a deeply rooted sense of place and are named after the landscape where they were made.
 
If you were styling Beige Gingham in your bedroom, what other pieces would you choose from your range and ours?
At Pampa we love all things neutral, especially our whites! There's something so special about pure wool in its natural state. Not only does its unique textures and tones match with every space, it's also 100% sustainable & organic. We love pairing our neutrals with bold textiles that celebrate colour and texture. With the terrains of Argentina inspiring each of our products we couldn't look past pairing the I Love Linen Beige Gingham and Ochre sheet sets to reflect this and complement the neutral tones and weighty weaves of our Monte & Porteno cushions and rug.
Alexandria from De Goey Planet
Tell us about your brand.
De Goey Planet takes pride in creating responsible, meaningful and luxury pieces through the art of clay and textile design. Inspired by imagination, each collection plays between the fine line of fantasy and functionality, serving as decorative pieces and luxury hosiery which aim to stimulate the mind and act as a conversation started. Each piece is delicately handcrafted using locally sustainably sourced materials in Queensland, meaning no two pieces are the same.
If you were styling Beige Gingham in your bedroom, what other pieces would you choose from your range and ours?
Iwould have to go all out matchy matchy and style myself in the Beige Gingham Poppy Set, and adorn my bedside with the David Deux Fois Vase with a cute arrangement of dried blooms.
Shop our latest shade - Beige Gingham, here.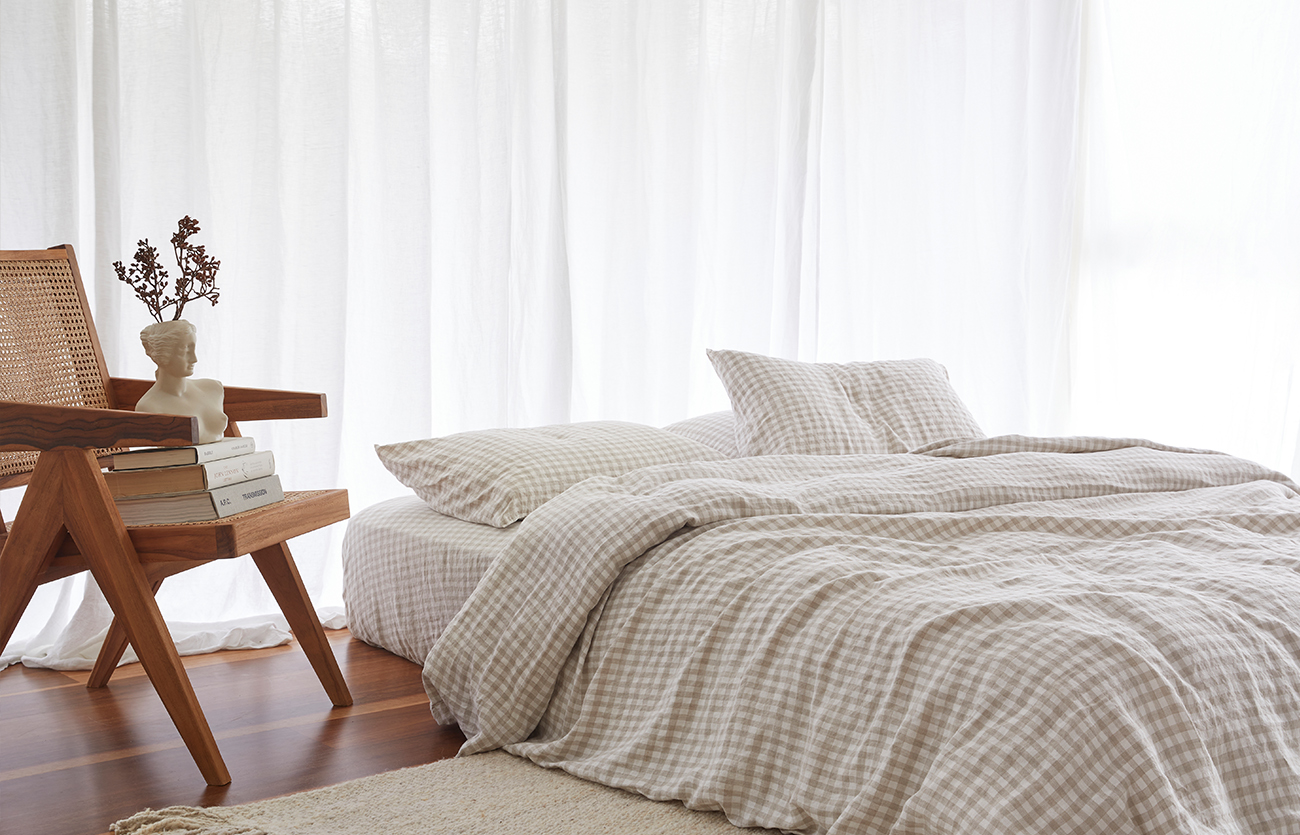 ---
Leave a comment