Boost your mood with colour
If you have found your mood changes based on the space that you're in, you aren't alone. While you may think that it could just be the environment that you're in, chances are the color of the space is also impacting your mood. Color's ability to influence and bring a sense of balance to your mood, behaviour, thoughts and general health is known as colour therapy. While color therapy is still considered a holistic practice, it has been used for thousands of years in a range of different ancient civilisations in an array of countries, including Egypt, Greece and India.
While you may not be able to completely redecorate your home in a calming color palette, you can switch up the color of your bedding. Here at I Love Linen, we fully subscribe to the power of color in your bedroom, so we have curated a range of colors to include in your sleep sanctury based on their impact on your mood.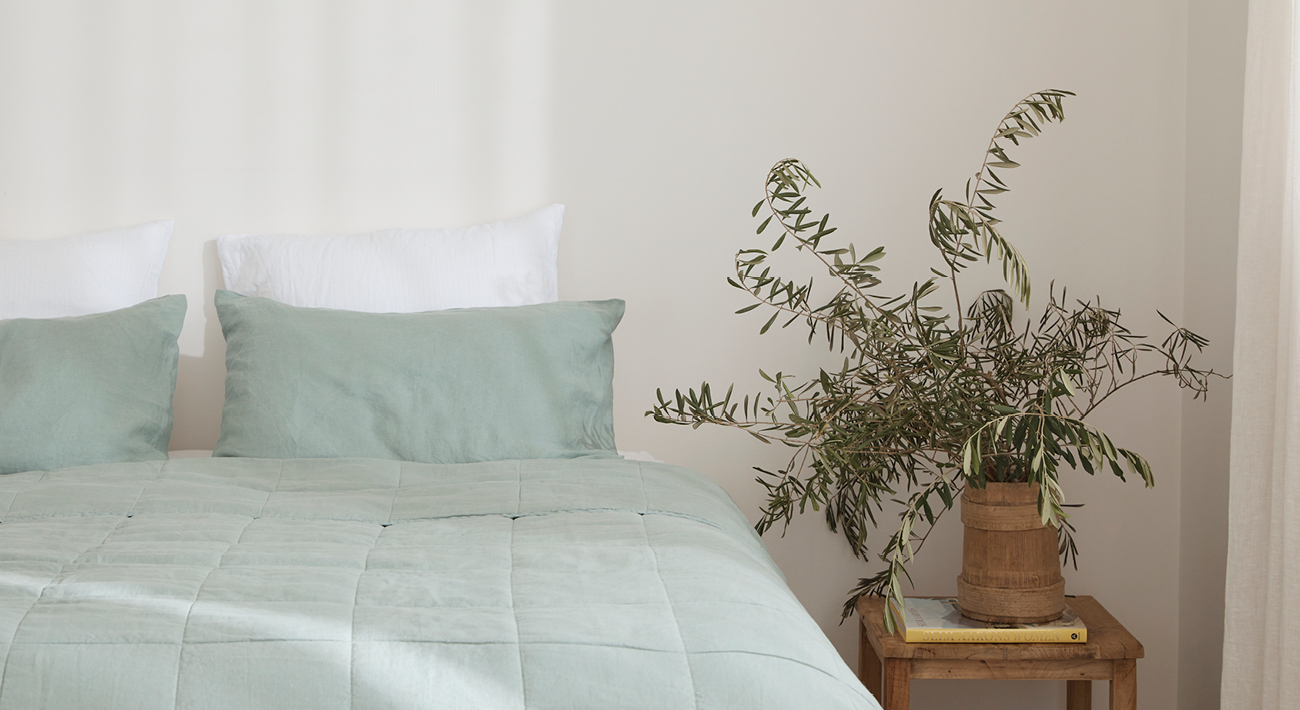 Green
Calming, peaceful, nature, harmony, balance & refreshing
The color green is closely associated with the presence of nature. Including green in your palette can have a calming and balancing impact on your mood. Fortunately, we have several shades of green to incorporate into your bedroom. Consider Olive, Sage or Olive Stripe. If a green bed head-to-toe isn't your style, consider styling with White to lighten the space and still get all the calming benefits of a nature inspired room.
Here we have styled the Sage Quilted Coverlet with a White Sheet Set to create this calming and restorative palette.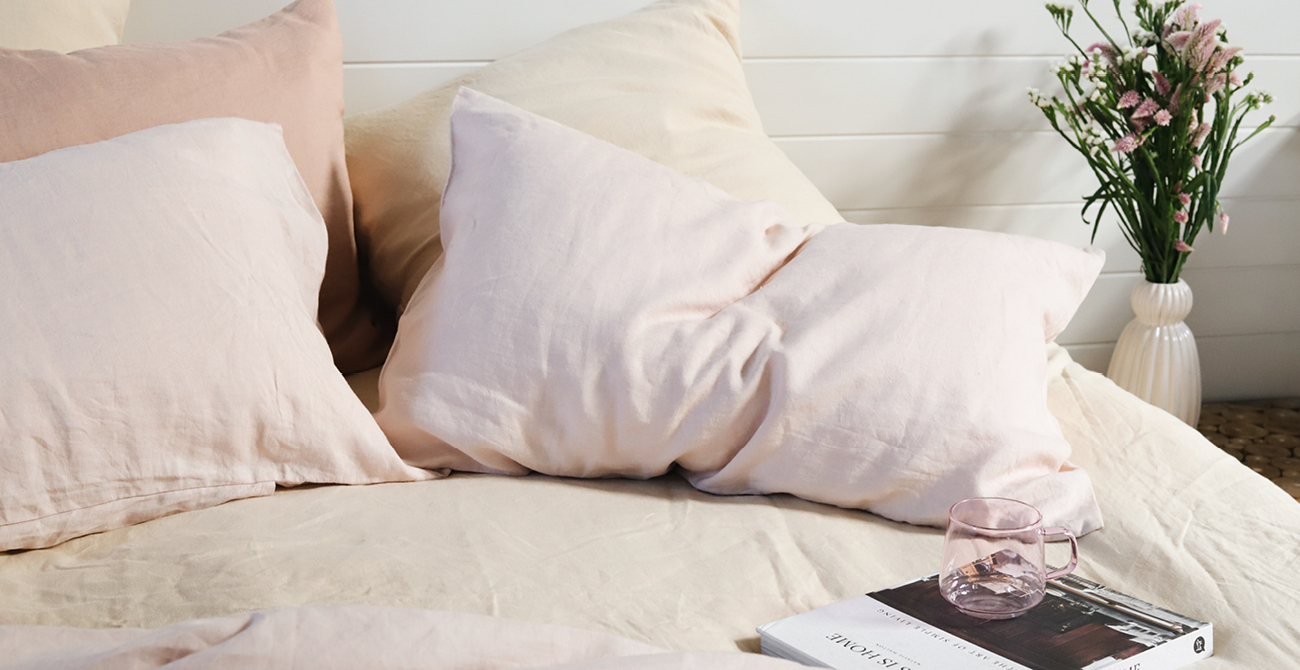 Pink
Playful, romance, comfort, love, kindness & happiness
The color pink is commonly associated with femininity but it also has close ties to other key emotions. Pink is often associated with love based emotions, including comfort, romance and even general happiness. Perhaps it is the playful properties of a pink palette, but we love adding in pink hues to lighten an otherwise heavy or bold style. We have a range of different pinks to choose from, consider Blush, Clay, Clay Gingham, Desert Rose or even Lilac for your bedroom.
We have chosen to pair our favourite pink hue, Blush, with Clay and Crème to create the bed of our sweetest dreams.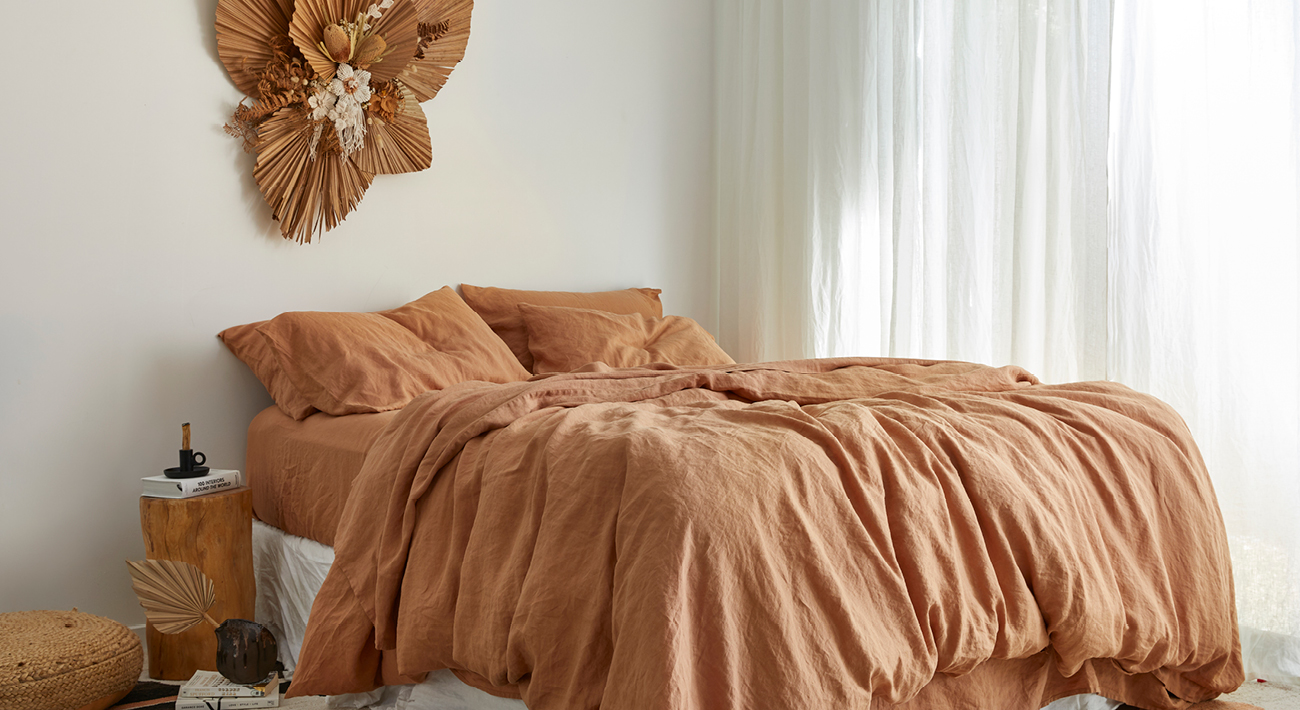 Orange
Energy, ambition, joy, warmth, creativity & health
While an orange bedroom isn't to everyone's taste, incorporating orange hues through earthy styling is much easier than you may think. With the mood boosting benefits of orange too good to pass on, considering incorporating Sandalwood, Ochre or even Sandalwood Gingham into your bedroom styling.
Here we have styled the bed in Sandalwood French Linen head-to-toe to create an energizing combination that is sure to get all your creative juices flowing.