| | | |
| --- | --- | --- |
| | Meet Fabienne | @fabienne.ycl | |
| | Welcome to the home of the Founder and Creative Director of the established YCL Jewels. In 2013, Fabienne Costa turned her hobby into reality and founded the award-winning jewellery brand YCL Jewels, based here on the Gold Coast. We were lucky enough to have this savvy businesswoman welcome us into her home idyllic hilltop home filled with adoring animals, creative corners and of course, only the best jewels. | |
OCHRE RUBY SET | SANDALWOOD FITTED SHEET, COCOA STRIPE FLAT SHEET, DAISY QUILT COVER SET
| | | |
| --- | --- | --- |
| | Interior Style | Minimal & Feminine | |
| | Fabienne describes her interior style as minimal and feminine. As an entrepreneur and businesswoman, Fabienne explains that her mind is always moving and she finds solace in a space free of clutter and surrounded by uplifting elements. Her home is decorated with inspiring books, created by artists and iconic designers. Nestled hillside and surrounded by thick greenery, fresh air flows through open doors - welcoming a grounding atmosphere to the home. | |
| | | |
| --- | --- | --- |
| | Favourite Nook| Spoilt for choice | |
| | Unable to narrow her choice to just one, Fabienne shares that she has two favourite nooks in her home - the lounge room and her workspace. The lounge space boasts wonderful views and a flowing breeze. Her workspace pays homage to her creative process, adorned in magazine clippings of inspiring women, art & artists. Standing in this space I couldn't help but feel a sense of fandom, to be here with such an accomplished woman in the place she feels her most creative. | |
| | | |
| --- | --- | --- |
| | Linen Lover | Earthy | |
| | Fabienne enjoys furnishings that bring warmth to her home, she explains this is why she loves I Love Linen - our pieces feel earthy and remind her to restore. | |
SANDALWOOD FITTED SHEET, COCOA STRIPE FLAT SHEET, DAISY QUILT COVER SET
| | | |
| --- | --- | --- |
| | Home | Comfort | |
| | When I spoke with Fabienne about what makes her feel most at home, she shared it's when she's walking around in her dirty, oversized Fleetwood Mac T-Shirt, harp music humming in the background, with a book tucked under her arm. The gentle footsteps of Opal, Salem & Spirit never far behind (her pets). | |
Fabienne wears the Curve Hoops & Eta Huggies by YCL Jewels.
Instagram: @fabienne.ycl @ycljewels
Website: ycljewels.com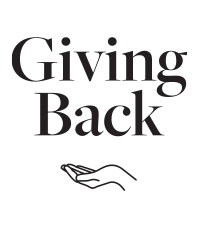 Giving Back | WIRES

When we feature our lovely customers on Places We Live, we also make a donation on their behalf to a charity of their choice. Fabienne has chosen to support WIRES Wildlife Rescue as the charity in focus. Fabienne shares this charity is very close to her heart. She explains that as humans we destroy so much of the landscape that animals require to thrive and she believes the work WIRES does is so important in restoring this loss.

Learn more about the foundation at wires.org.au or @wireswildliferescue

More on our Giving Back initiative here.