Come with us as we discover the soothing palette of Kate Brigginshaw's family home. A labour of love, Kate and her wife Ali renovated their Brisbane home to create this charming mix of traditional features with a soothing touch of modern minimalism.
A CALMING PALETTE
Kate has styled her home in a soothing, calming palette. The pair have successfully incorporated a mix of cult modern furnishings like wishbone chairs and brushed brass tapware with a whisper of more traditional elements coming through in the herringbone tiles and the home's exterior.
Q: How would you describe your interior style?
Kate: I would describe my interior style as calm and minimal.
FAVOURITE NOOK | Light & Airy
Q: What is your favourite nook in your home?
Kate: Definitely our master bedroom, walk in robe and ensuite. It's our own little private wing of the house and the first big reno we did. I spent a lot of time working on the design, I wanted to maintain the integrity of the house whilst keeping the space light and airy which I think we've done. It's a room that I walk into and instantly feel happy in.
FAVOURITE PIECES | Beautiful & Durable
Q: A few words about your favourite I Love Linen pieces.
Kate: It's so hard to pick a favourite I Love Linen piece. I can't go past the Pure Linen Beige Gingham Duvet Cover, it's such a classic print. But tha Bamboo Sheet Set is so luxe and decadent. I love to mix and match the different textures of these fabrics.
Kate styles her bed with our White Bamboo Sheet Set, French Linen Duvet Cover in Sage and Olive Stripe Standard Pillowcases. Kate also mentions the Pure Linen Beige Gingham Duvet Cover (not pictured).
FEELING OF HOME
Q: What makes you feel most at home?
Kate: In sounds so cliché, but anywhere my kids and wife are is where I feel most at home.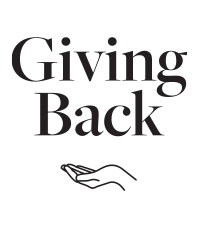 Our aim is to inspire our community with our designs & styling, in addition to using our ever-growing platform to give back. Each time we feature our lovely customers in Places We Live, we will also shine a light on a charitable cause that is close to their heart. In turn, we make a donation on their behalf from orders placed for a specified time from when their feature is released.
Kate has chosen Beyond Blue as the organisation she would like us to give back to. Beyond Blue are an incredible mental health organisation that provides support for those affected by anxiety, depression and suicide. Mental health is very close to Kate's heart and it impacts so many people. By donating to Beyond Blue we can help improve mental health and prevent suicide.
Learn more about the foundation at https://www.beyondblue.org.au/
More on our Giving Back initiative here.