Meet Lolita | @lolita.bylolita
We're excited to introduce you to an ongoing series where we visit the beautiful homes of our I Love Linen community and show you how they style our French linen bedding.
This month, our Designer visited the home of the wonderful, Lolita. We first met Lola earlier in the year, when we came across her on Instagram (@lolita.bylolita) and fell in love with her quirky, hand-made ceramic pieces. We were lucky enough to have Lola create an exclusive ceramic range to support the launch of our latest French linen Bedding style, Clay Gingham. We just couldn't get enough of her electric energy, so here we are, featuring her in our latest Places We Live series.
INTERIOR STYLE | Minimal & colourful
Lolas home is sweet & quirky, very on-brand with her ceramic creations. She describes her style as "minimal, with pops of colour" & she is certainly not wrong!
"Minimal, with pops of colour"
FAVOURITE NOOK | Studio
Lola is a true creative, when asked where her favourite space in her home is, she keenly responded, "probably my studio - with the morning light and a candle burning, it's where I feel the most creative and content".
"A comforting and welcoming space is important to me"

LINEN LOVER | Gingham
Looking at Lolas Instagram, there's no secret she is a lover of pink, so we were not surprised to hear that Clay Gingham was her favourite French linen Bedding style. When we asked her what it was that drew her to Clay Gingham, she responded "I feel like it's a happy and playful set. It always makes me laugh seeing Alex (her partner), snuggling into them because they're so feminine."
HOME | is where the love is
To finish off the series, we asked Lola what makes her feel the most at home. Lola said for her, the feeling of home does not come from physical space, rather, it's the people in the space that gives her that homely comfort. Lola finished off her response by saying, "A comfortable and welcoming space is important to me."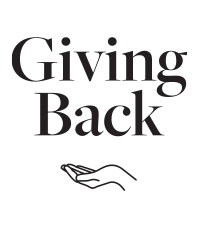 Lola has chosen One Girl, an organisation fighting to break down the barriers that girls face in accessing education. One Girl strives to make a difference by running girl-led programs in Sierra Leone and Uganda to drive positive change for girls and their communities. Lola chose to support One Girl as a young female in business, she can really relate to this charity. Lola wants all females to feel empowered and to know they are capable of being anyone/anything they want to be.
Learn more about the foundation at https://www.onegirl.org.au/about-us or on Instagram @onegirlorg
More on our Giving Back initiative here.