| | | |
| --- | --- | --- |
| | Meet Jaharn | @smorkitchen | |
| | Welcome to the home of food extraordinaire and linen lover, Jaharn Quinn. Earlier this year we had the pleasure of working with Jaharn on the launch of our revamped French linen Dining Range. From day one, Jaharn amazed us with her wholesome content, dreamy tablescapes and nifty DIY tutorials. Today we extend beyond scenes of her table, as she welcomes us into her seaside abode. | |
OLIVE TABLE CLOTH | BLUSH NAPKIN
| | | |
| --- | --- | --- |
| | Interior Style | Vintage Modern Twist | |
| | Jaharn describes her interior style as a mix of vintage and modern designs and art. While we initially came to know Jaharn as @smorkitchen, a creator of wholesome nourishing recipes, we later discovered she also has a keen interest in DIY home furnishings. Because of this, her home is decorated with upcycled and creative furniture pieces. Jaharn explains that the old furnishings bring a sense of coziness and lived in beauty to her home. | |
| | | |
| --- | --- | --- |
| | Favourite Nook| Kitchen | |
| | Unsurprisingly, Jaharn's favourite nook in her home is the kitchen. She explains that being in the kitchen brings her calm and contentment, "it's the space where I feel the most creative and confident in what I am doing". Jaharn continues by detailing the kitchen as the heart of her home, the place where her kids sit on the bench to accompany her while she cooks. The kitchen is also where a painting by her great uncle sits, "he was an esteemed artist and an avid collector of art", a creative inspiration for Jaharn. | |
PINSTRIPE APRON | WHITE STEVIE DRESS
| | | |
| --- | --- | --- |
| | Linen Lover | Earthy Olive | |
| | We have come to know Jaharn for her love of our Olive linens. From her dining table to her bed, Olive has been the shade of choice when working alongside Jaharn. When I asked her what it is about the green that has her so appealed, she explained "I'm drawn to all shades of green, it's such a calming colour and reminds me of Australian's outback and coastal natives". Jaharn loves the natural soft texture of French Flax linen and enjoys the process of the linen softening with time, she describes her linens as heirloom pieces. | |
OLIVE STRIPE QUILT COVER SET, OLIVE FLAT SHEET, OLIVE STRIPE FITTED SHEET WITH OLIVE PILLOWCASES
| | | |
| --- | --- | --- |
| | Home | Sunday Afternoons | |
| | Sunday afternoon is when Jaharn feels the most at home. She shuts the front gate, allowing her kids to run around the garden free-range. Her partner will meet her on the front deck and together they enjoy an evening beer. For Jaharn and her family, it's the small things. | |
Please note: Olive Bedding is currently only available on our AUS website.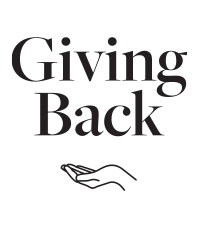 Giving Back | Lifeline

When we feature our lovely customers on Places We Live, we also make a donation on their behalf to a charity of their choice. Jaharn has chosen to support Lifeline as the charity in focus. Lifeline is an invaluable charity, offering a 24-hour 13 11 14 Crisis Support Line as well as Suicide Prevention Services. Jaharn lost a friend to suicide in 2005; it was a devastating loss and she still feels the impact of it today.

Learn more about the foundation at lifeline.org.au or @lifelineaustralia

More on our Giving Back initiative here.