| | | |
| --- | --- | --- |
| | Meet Torrie Baker | @__thebakers | |
| | Welcome to the home of customer & linen lover, Torrie Baker. We fell in love with Torrie's Los Angeles family home earlier this year when we came across her dreamy images of our Marine Blue & Beige Gingham Bedding on Instagram. Torrie talks us through her interior style, her favourite home features and, of course, her favourite I Love Linen pieces. | |
| | | |
| --- | --- | --- |
| | Interior Style | Modern & Scandinavian | |
| | Torrie describes her interior style as Organic Modern, mixed with Scandinavian. White floor-length curtains, warm timber flooring and Scandinavian inspired furniture throughout the home certainly confirms this reflection. As for the nick-knacks around her home, Torrie explains each piece as "thoughtful and easily interchangeable". Her design intention is to keep the home light, bright and the styling neutral & minimal. | |
| | | |
| --- | --- | --- |
| | Favourite Nook | Dining Room | |
| | When asked which space is her favourite, Torrie details her Dining Room - "I mean, did you see all of those wooden windows". Looking at the images, I have to agree. The big, timber, folding windows, that invite the outside world in, without a doubt hold the grandeur in this home. Fresh air and bright daylight pour through Torrie's dining room windows. To complete the excitement of this space, Torrie explains her family can even peep the Hollywood sign as they share a meal from their dining table. | |
MARINE BLUE QUILT COVER SET & BEIGE GINGHAM PILLOWCASES | BEIGE GINGHAM POPPY SET
| | | |
| --- | --- | --- |
| | Linen Lover| Unmatched quality | |
| | Torrie kindly shares her love for our linen, "the quality of I Love Linen is truly unmatched". She has several I Love Linen bedding sets that she will alternate between when she feels like their space needs a refresh. | |
| | | |
| --- | --- | --- |
| | Home | My Family | |
| | Sweetly, Torrie finds 'home' in her children's laughter and a lit candle. The smell of a meal she prepares with her husband and of course, her cozy I Love Linen Loungewear. | |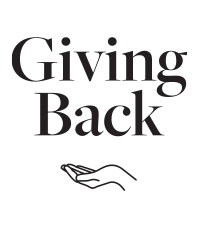 Giving Back | One Girl

Torrie has chosen One Girl, an organisation fighting to break down the barriers that girls face in accessing education. One Girl strives to make a difference by running girl-led programs in Sierra Leone and Uganda to drive positive change for girls and their communities. Torrie chose to support One Girl as pro-women charities are near and dear to her heart, "every young girl deserves to be invested in and valued".

Learn more about the foundation at https://www.onegirl.org.au or @onegirlorg

More on our Giving Back initiative here.
**
Please note that Marine Blue is not currently available in US sizing. To shop Marine Blue Bedding, visit our Australian website & carefully refer to the size guide.