Delicious Potato & Chard Pie by Jessica Prescott
Date Posted:11 May 2020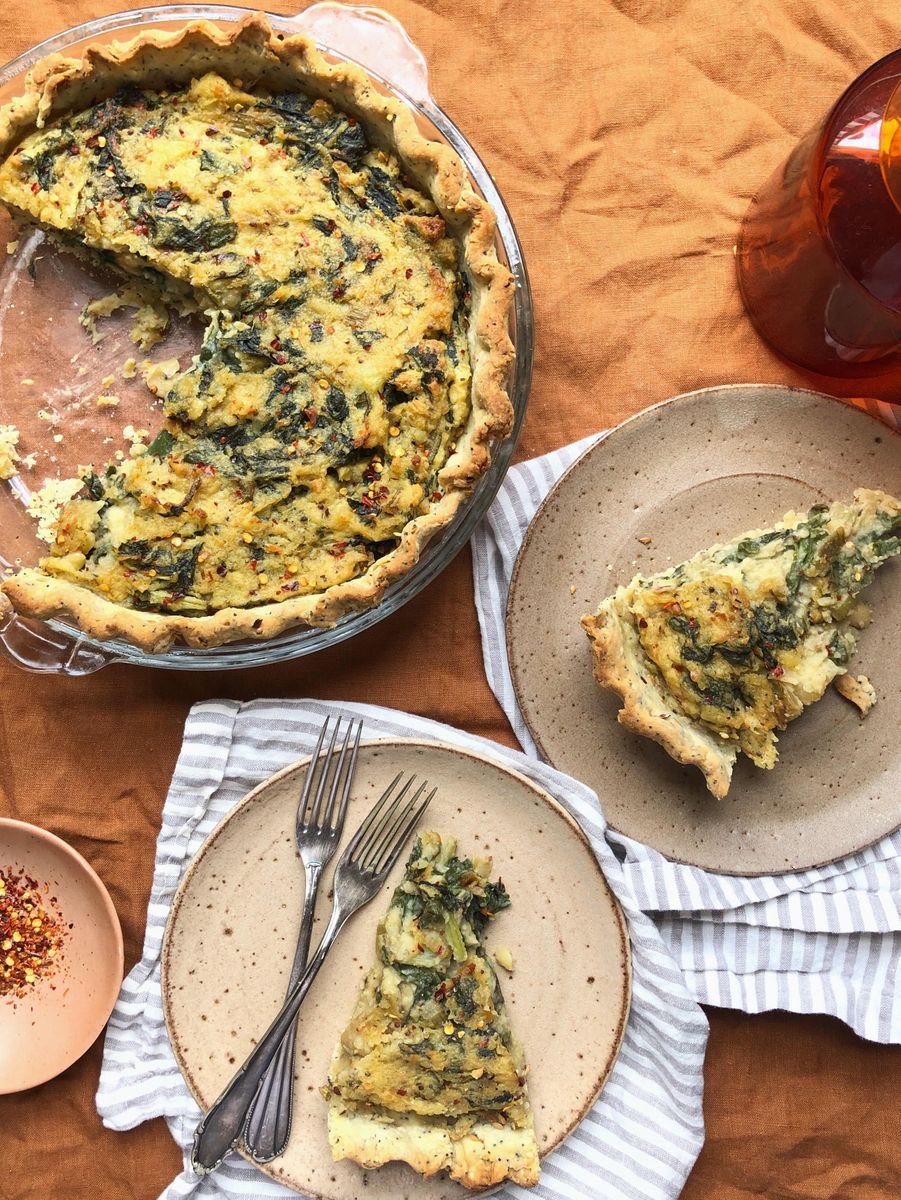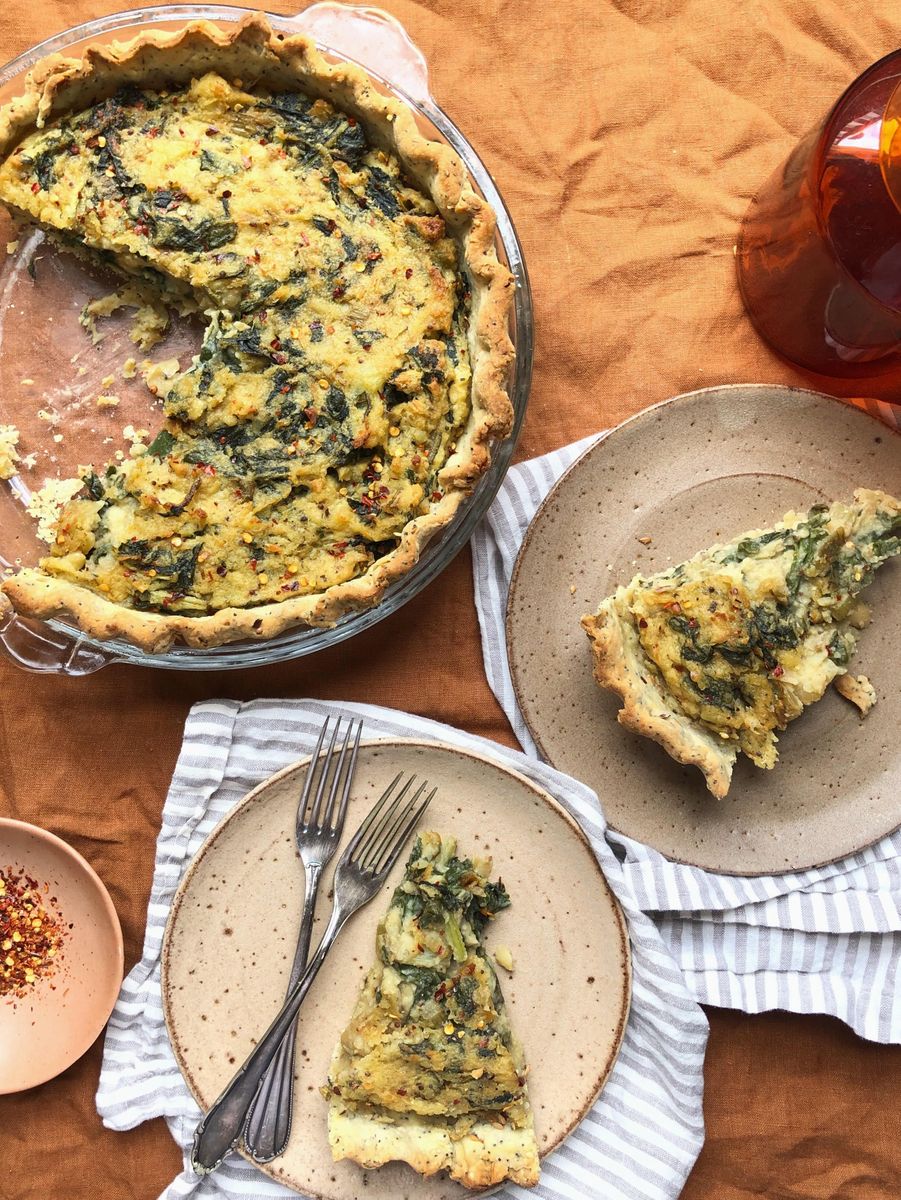 Our linen loving, sourdough enthusiast friend @jessica_prescott_ has shared her recipe for a delicious creamy potato and chard filling pie. One of our favourite ways to spend our days at home is in the kitchen and we thought you'd love to try this one too.
Ingredients:
For the crust

1 cup all purpose flour
1 tablespoon each hemp, flax, sesame and poppy seeds
1/2 teaspoon salt
50ml olive oil
Approx 50ml water
For the filling

Approx 340g potato (300g when peeled)
Generous glug of olive oil
400g chard
5 cloves garlic, minced
1 x 400g tin butter beans
100ml soy milk
50ml olive oil
2 tablespoons nutritional yeast
1 tablespoon chickpea flour
1 teaspoon wholegrain mustard
scant teaspoon of salt
1/4 teaspoon nutmeg
Freshly cracked black pepper to taste
Method:
For the crust

1. Place flour, salt and seeds in a mixing bowl and stir to combine.
2. Add oil and stir until mixture is crumbly. Add water, 1 tablespoon at a time, until mixture comes together.
3. Knead a few times to form dough into a ball and then cover with a tea towel and allow to sit while you prepare the filling.
4. Once filling is ready, press the dough into a circle on a floured surface, then sprinkle with some flour and roll with a rolling pin, flip, sprinkle, roll, repeat until its big enough to fit in your pie dish with some overhang.
5. Gently transfer pastry to pie dish. Tuck the overhang under, then crimp the edges using your thumb and forefinger.
Like this: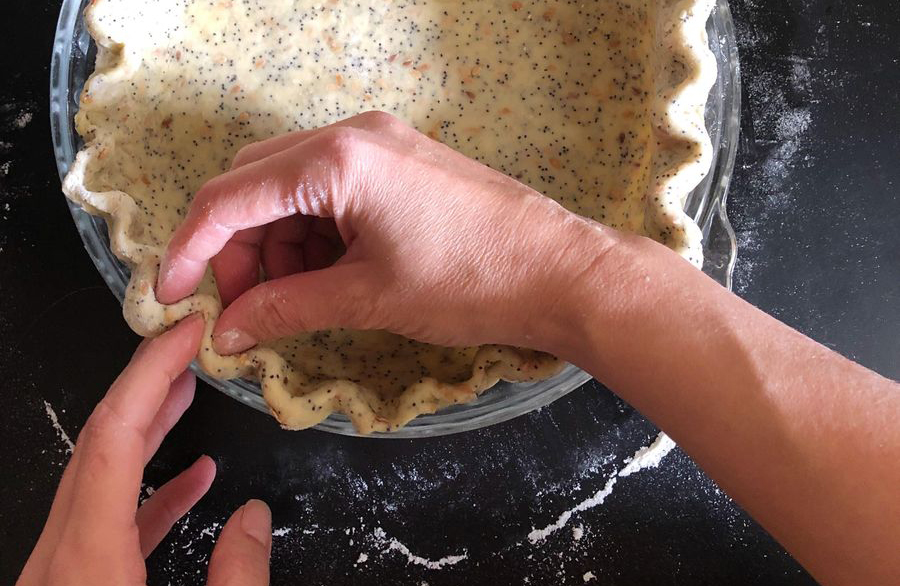 For the filling

1. Get your potato on to boil: Peel, place in a small pot and cover with water. Add a big pinch of salt and bring to a boil, then simmer until fork tender. 
2. Thoroughly wash the chard and separate leaves from stems. Cut the tender parts of the stems into 1cm wide pieces and tear the leaves into bite sized pieces.
3. Heat a generous glug of olive oil in a large frying pan over a medium heat. Add garlic, chard stems and a pinch of salt to the pan. Cook until stems have softened, a good ten mins or so.
4. Add the leaves and cook until wilted and all of the water is evaporated.
5. Once the potato is cooked, drain the water, add butter beans (drain them first), most of the soy milk, olive oil, nutritional yeast, chickpea flour, mustard, salt, nutmeg and pepper. Mash until smooth, adding the rest of the soy milk if you need to, then add to the the pan with the garlicky greens and stir until well combined. If you want to taste the mash, do this BEFORE you add the chickpea flour, as uncooked chickpea flour is truly one of the worst tasting things on Earth.
6. Transfer the filling to the crust, smoothing the top with the back of a spoon. Spray with olive oil and place in the hot oven for 40 minutes or until the crust is golden brown.
7. Allow to cool for 10 mins and then cut and devour.
---
Leave a comment