With two content creators under the same roof, it is no wonder their space is equally stylish as it is beautiful. These two beauties combine their love for refined simplicity to create their take on laid-back minimalism that still feels light and inviting.
Indulge in the modern minimalism experience brought to life by Gold Coast based content creators Dom & Gabby.
LAID-BACK MINIMALISM | Nordic Touch
Q: How would you describe your interiror style?
Dom: Laid-back minimalism with beautiful materials and local brands; I love having a clutter-free home and am constantly sorting out my wardrobe.
Gab: I love creating a minimal, simple space that feels cosy, airy and bright with a nordic touch.
FAVOURITE SPACE | A Scandi Sanctuary
Q: What is your favourite nook in your home?
Gab: My bedroom is my sanctuary. I love having all the doors open out to the treetops listening to the birds!
Dom: Definitely my bed - it's my safe haven and I love having a sneaky sleep-in, especially when it's raining.
Gabby styles her bed with our Cocoa Stripe Quilt Cover and Pillowcases, White Fitted Sheet and matching Pillowcases.
FAVOURITE PIECES | Cosy Aesthetic
Q: A few words about your favourite I Love Linen pieces.
Gab: My I Love Linen bedding really sets the tone of the space and creates a cosy aesthetic. I love mixing and matching my collection of different colour/printed sheets to refresh the space.
Dom: We spend so much of our lives in bed so I love having high quality bedding that not only compliments the room's aesthetics but also feels amazing on the skin.
Dom styles her bed with our Beige Gingham Quilt Cover and Pillowcases, Crème Fitted Sheet and matching Pillowcases.
FEELING OF HOME
Q: What makes you feel most at home?
Dom: Since I call both Germany and Australia home, my own sanctuary is really important to me. I love calling friends back home in Germany and having a long chat whislt cuddled up in bed! Also my close friends around me here in Australia definitely make wherever I go feel like home.
Gab: My puppy Pearl and a cup of tea in bed.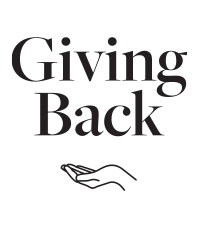 Our aim is to inspire our community with our designs & styling, in addition to using our ever-growing platform to give back. Each time we feature our lovely customers in Places We Live, we will also shine a light on a charitable cause that is close to their heart. In turn, we make a donation on their behalf from orders placed for a specified time from when their feature is released.
Dom & Gabby have chosen One Girl as the organisation they would like us to give back to. Dom & Gabby value the work One Girls does to break down barries that young girls in Sierra Leone and Uganda face when accessing education.
Learn more about the foundation at https://www.onegirl.org.au/
More on our Giving Back initiative here.