Renew with Peggy Sue: Bath Brew Pockets
Date Posted:17 November 2020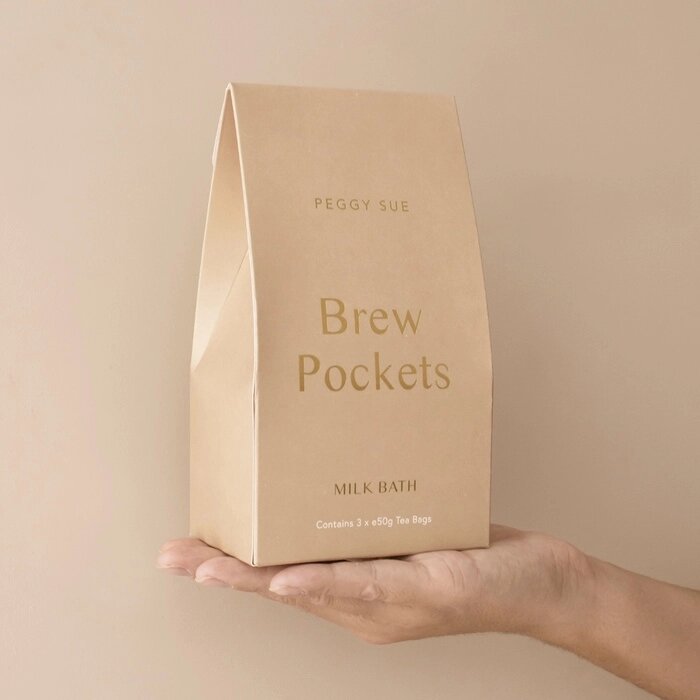 Amongst the busyness of life, it's important to take the time to renew with Peggy Sue Soaps. They recently released their new Bath Brew Pockets, perfect for slowing down and taking time to yourself. Whether taking baths is a weekly ritual for you or something you rarely do, taking a relaxing bath is sometimes just what we need. Although we may struggle to find the time to get ourselves to a spa for some relaxation, you can create a spa-like bath right at home. Continue reading to discover how.
1. Create an ambience in your bathroom
Spas have a beautiful ambience to them. They are calming, serene and free from distractions. Create your ideal ambience with dimmed lights, your favourite scented candles and some relaxing music. Choose your beverage of choice - whether it's a treat of wine or your go-to herbal tea. 
2. Prepare your bath with your Peggy Sue Soaps Milk Bath Brew Pocket 
These biodegradable brew pockets are filled with a delicious blend of coconut milk, oats, cocoa butter, Epsom salt and so much more! They infuse the bathwater with colour and botanical goodness to create a fun and relaxing bath experience, leaving your skin feeling revitalised and silky smooth. Together these brew pockets will infuse the water with an array of vitamins, magnesium, and hydration which work to soften your skin, soothe and relax muscle tension, as well as giving your skin a big dose of nourishment and love.
Place 1 teabag into the bath under the warm running water. Gently squeeze the bag to release the botanical essence. Relax and soak for 15 to 20 minutes.
3. Add a little something extra to pamper yourself
Run a beautiful, replenishing hair mask through your tresses or smooth on your favourite detoxifying face mask. Sit back and let all of the goodness from the ingredients relish on your skin. Take some deep breaths and set an intention to enjoy and be appreciative of your self-care ritual.
4. Step into a beautiful, cozy towel or rob
To finish off your luxurious bath, dry off with our cotton-linen blend waffle towels, or pop on our dreamy Kimono Linen Robe. Slather on some delicious moisturiser and call it a night. 
A gift, just for you
The first 100 orders placed from 7:00 AM AEST Wednesday 18th November will receive a free single-serve of the Milk Bath Brew Pocket from Peggy Sue Soaps. The product is an Exclusive ILL x Peggy Sue collab with limited edition packaging. The offer is available while stocks last and will be automatically added to your cart. Customers are only able to receive 1 free gift per order. This gift is not available on free fabric swatch orders or gift voucher purchases and is not able to be redeemed in conjunction with any other offer.
---
Leave a comment