Shop now pay later with AfterPay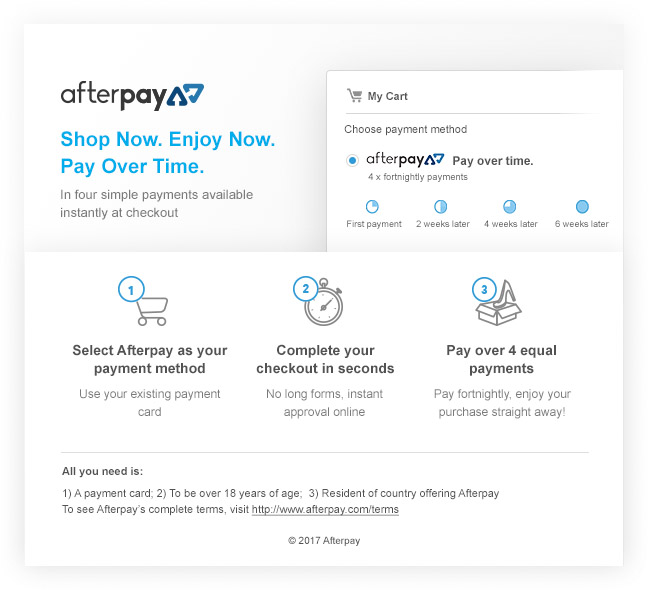 WHAT YOU NEED:
1. An Australian credit card or debit card
2. To be over 18 years of age
3. An Australian residential address
HOW DO I USE AFTERPAY?
1. Add items to your shopping bag and checkout as normal
2. Select Afterpay as your payment method - you will be redirected to the Afterpay website
3. Register or login to your Afterpay account
4. Enter or verify your payment details then confirm your order
Please note: The funds for the first payment must be available on your nominated card at the time of checkout.
IS THERE A MINIMUM/MAXIUMUM ORDER VALUE FOR AFTERPAY?
Afterpay can be used for orders up to $1000.
 
WHEN WILL MY FIRST PAYMENT BE CHARGED?
All new Afterpay customers are required to make their first payment at the time of purchase. You will no longer be considered a 'new' customer once you have fully paid off your first order and 6 weeks have passed since you placed that order.
For online orders under $500 placed thereafter, your first payment will only be deducted 2 weeks after your purchase and your last payment deducted 8 weeks after purchase. For all orders over $500, your first payment will always be deducted at the time of purchase.

I'VE BEEN DECLINED, WHY?
When determining which orders to approve, Afterpay's automated system considers a number of different factors. As an example, the longer you have been a customer with Afterpay and the more orders you have successfully repaid, the more likely you will be able to spend more. Restrictions are tighter for 'new' customers (first 6 weeks) until we get to know you.
Whilst it can be frustrating to not know exactly how much you can spend each time, rules and approval processes help Afterpay responsibly offer a completely free service to customers.
The good news is that each time you use Afterpay, they are making a fresh decision, and over time you will be able to spend more so long as you continue to repay your instalments on time.
 
WHAT IF I CAN'T PAY AN INSTALMENT?
If you fail to make a payment, you will be charged a $10 late payment fee by Afterpay with a further $7 late payment fee added seven days later if the payment is still unpaid. Please see Afterpay terms here.
 
WHO DO I CONTACT IF I HAVE QUESTIONS ABOUT AFTERPAY?
For any queries about Afterpay, including payments, declined orders, or your Afterpay account, visit their FAQ page. If you can't find what you're looking for, contact Afterpay by submitting an enquiry online, or call 1300 100 729.